FoxLocation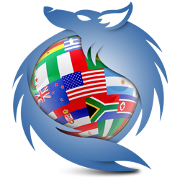 FoxLocation displays the current site's location in Firefox's address bar! Discover where is located the server that handles the site you are viewing...
INSTALL IT NOW!
How it works
FoxLocation
is a FireFox Addon that stays silently in your address bar. Each time you browse a site, it gathers informations from our servers, such as the server location, the domain name, the real hostname, and it shows up the server's country flag. All informations are displayed to you and you'll have an handy shortcut to all DnsQueries features on those infos.
›› Download
Privacy
FoxLocation sends us the site you are visiting each time you surf it. If you are worried about your personal data please consider that:
the source code is open and can be viewed by anyone concerned about his privacy
we DO NOT collect personal informations while you surf
we DO NOT save your IP in our databases
we DO NOT save IP Addresses linked to the sites that have been viewed
we SAVE the domain you are visiting to cache its details, our system will be faster the next time you surf it!