DNSQueries.com Toolbar - Help
This section contains the help topics on our DNSQueries.com Toolbar.
Top

How to use the toolbar
DNSQueries.com Toolbar provides a quick and easy way to have all the DNSQueries tools at short-hand. The toolbar consists in the following elements:
toolbar
contextual menu
preferences window
The toolbar is located in the upper part of your browser and gives you access to some of the feature we provide in our site.
Top

See it in action
The next animation shows you the toolbar's main features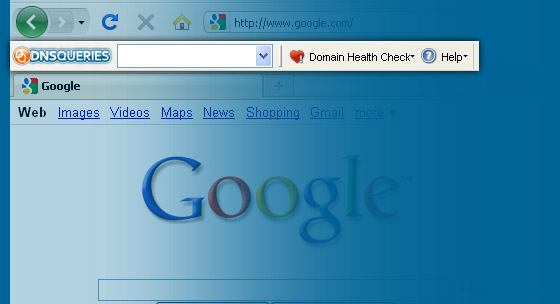 Available Commands:
This menu shows you the commands you can run on the command parameters entered in the textbox. Clicking on each command activates it.
Selected Command:
Is the command currently active. Entering some parameters in text box and clicking on this button will run the currently selected command on the parameters.
Command Parameters:
Is the text box where you can write down command parameters to run test on. You can write down an ip address, a domain name, an hostname and so on, then click on the command you want to run and simply wait for the output.
Help Button:
This menu has different features you can use: the "Set Preferences" button will let you set every kind of preference the toolbar works on, "Clear History" clears the command parameters textbox entries (you can also disable the History feature in the parameters window).
The contextual menu is shown on each page (right click on the page and select the DNSQueries.com entry). With this feature you gain a quick access to all the tools the toolbar provides, run on the page you are viewing. This means that if you are viewing http://adwords.google.com and you click on the "dns query" button, the system will open a new tab containing the results for a dns query (type ALL) on the hostname adwords.google.com, if you click on "check domain health" button the system will show you the results of the "domain health check" tool run on google.com and so on...
The preferences window lets you tweak on the toolbar's behaviours. The window is separated in two parts: "Simple" and "Advanced". If you are not a programmer please, stay in the "Simple" panel and play with those preferences.
Top

Preferences Explained
Preferences control the toolbar behavious while using it. You can access ALL the preferences, meaning that you can tweak all the toolbar beahoviours.
Let's talk a little bit about each preference:
Enable History:
When this is checked, the toolbar records all the parameters you write in the textbox or you click via the contextual menu. When unchecked this feature is disabled.
Enable Ping:
When this is checked, the toolbar sends a daily ping to our servers telling that "it is alive". This feature is well documented in our Privacy Policy and this helps us, focusing our work on what you really need.
Toolbar Id (Advanced Tab):
This long text is an autogenerated code that is sent to our servers to track that your toolbar "is alive" in the Ping feature.
Enable debug mode (Advanced Tab):
When checked, this preference enables debug messages, meaning that writes in the console som control messages for debug purposes. The console is opened automatically at Firefox start.
Last Ping (Advanced Tab):
This number is the Unix Epoch timestamp when the Ping process was called last time.
Re-Ping After (Advanced Tab):
This number represents the number of seconds between two consecutive Pings (Ping is only called at browser start).
Top

How to disable privacy concerning features
You may choose to disable privacy concerning features simply by clicking on the "Help Button", then click on "Set Preferences" and uncheck all the checkboxes under the "Privacy Settings" label. From this moment you will stop to send out data to our servers. If you want to know which data we transmit please read our Privacy Policy.